Vitra
Vitra has been working for decades with international designers such as Ronan & Erwan Bouroullec, but also Charles & Ray Eames. The company, founded in 1953, has focused on sustainability in its designs since its foundation. With this a timeless collection has been developed with classics and modern pieces that know how to inspire.
Creating innovative products and concepts together with fantastic designers, that's what Vitra is all about. They are developed in Switzerland and installed worldwide by architects, companies and private individuals to create inspiring places to live, work and public spaces.
The classics from Vitra stand for avant-garde twentieth-century design. Even today, Vitra wants to push boundaries in design by combining its technical and conceptual expertise with the creativity of contemporary designers.
Vitra has been a family business for eighty years and believes in long-term relationships with customers, employees and designers, sustainable products and growth and the power of good design. Would you like to know more about the history of Vitra? Please visit https://www.vitra.com/nl-nl/home
TOM VAC
Adexpo has had the Tom Vac chair in its range for years. We rent these for trade fairs, exhibitions,  events and conferences in The Netherland, Germany, Belgium and many more countries throughout West Europe. The chair was designed by Ron Arad and can be recognized by the striking seat shell in a beautiful round shape. The seat shell is made of white plastic and the base is chrome-plated. The Tom Vac chair (S108)  is suitable for both indoor and outdoor use.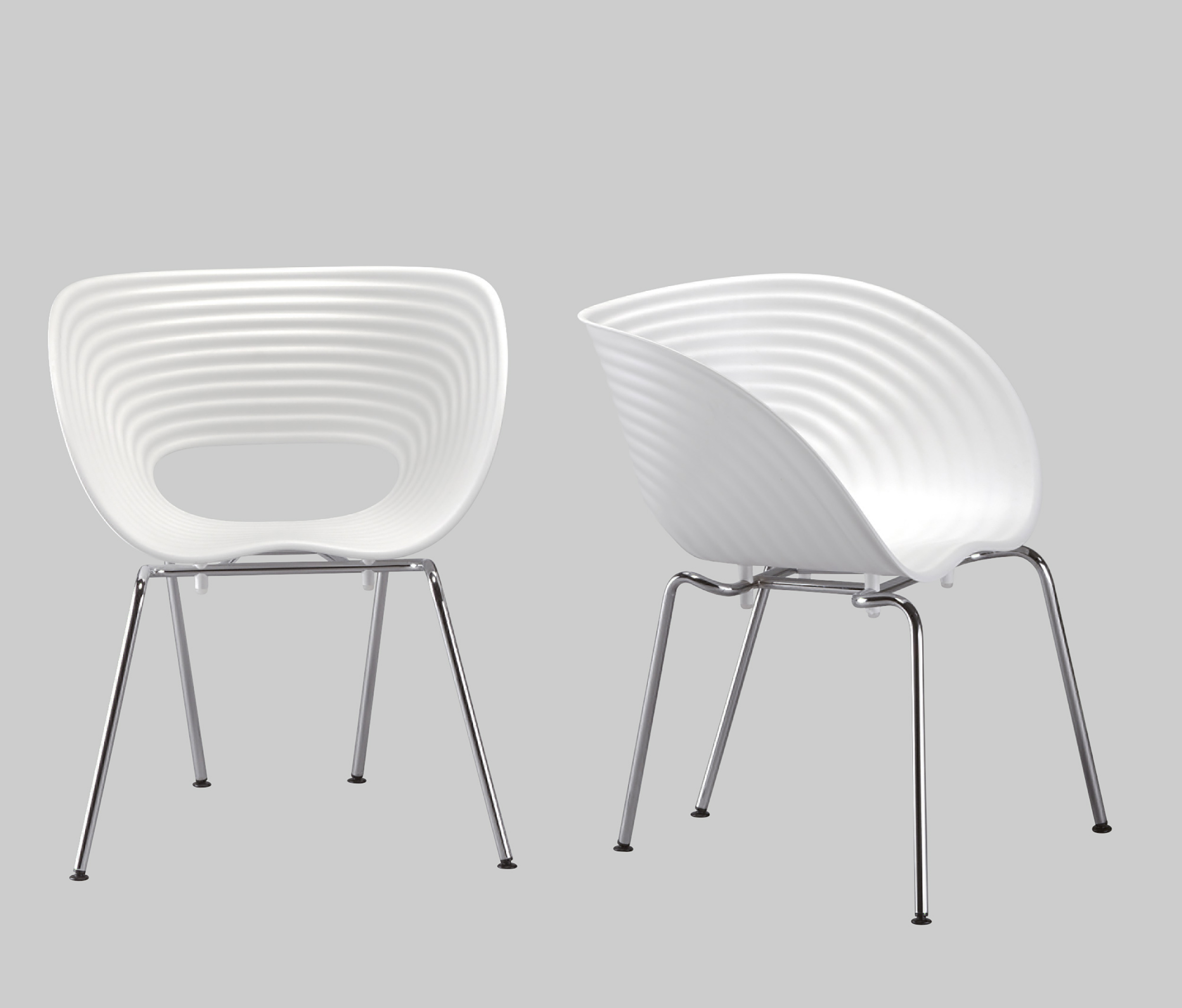 EAMES
Rent Eames from Vitra? Then you're in the right place at Adexpo! The Eames chair was designed by Charles & Ray Eames and can be rented at Adexpo in 3 different colors: in white / chrome (S340), in black / chrome (S342) and in red-orange / chrome (S344).
The EAMES DAR chairs have been a worldwide concept for more than 60 years. It was the first industrially produced plastic chair in the 1950s and is considered one of the most important furniture designs of the twentieth century. The "Eiffel base" in chrome and the shell seat with armrest are characteristic of the Eames Chair. A real eye-catcher on your exhibition stand!
VISAVIS
Chair Visavis, designed by Antonio Citterio has a comfortable fabric seat in black. The backrest is perforated and the Visavis chair seems to float due to the sleekly designed base. This beautiful black fits perfectly at a conference.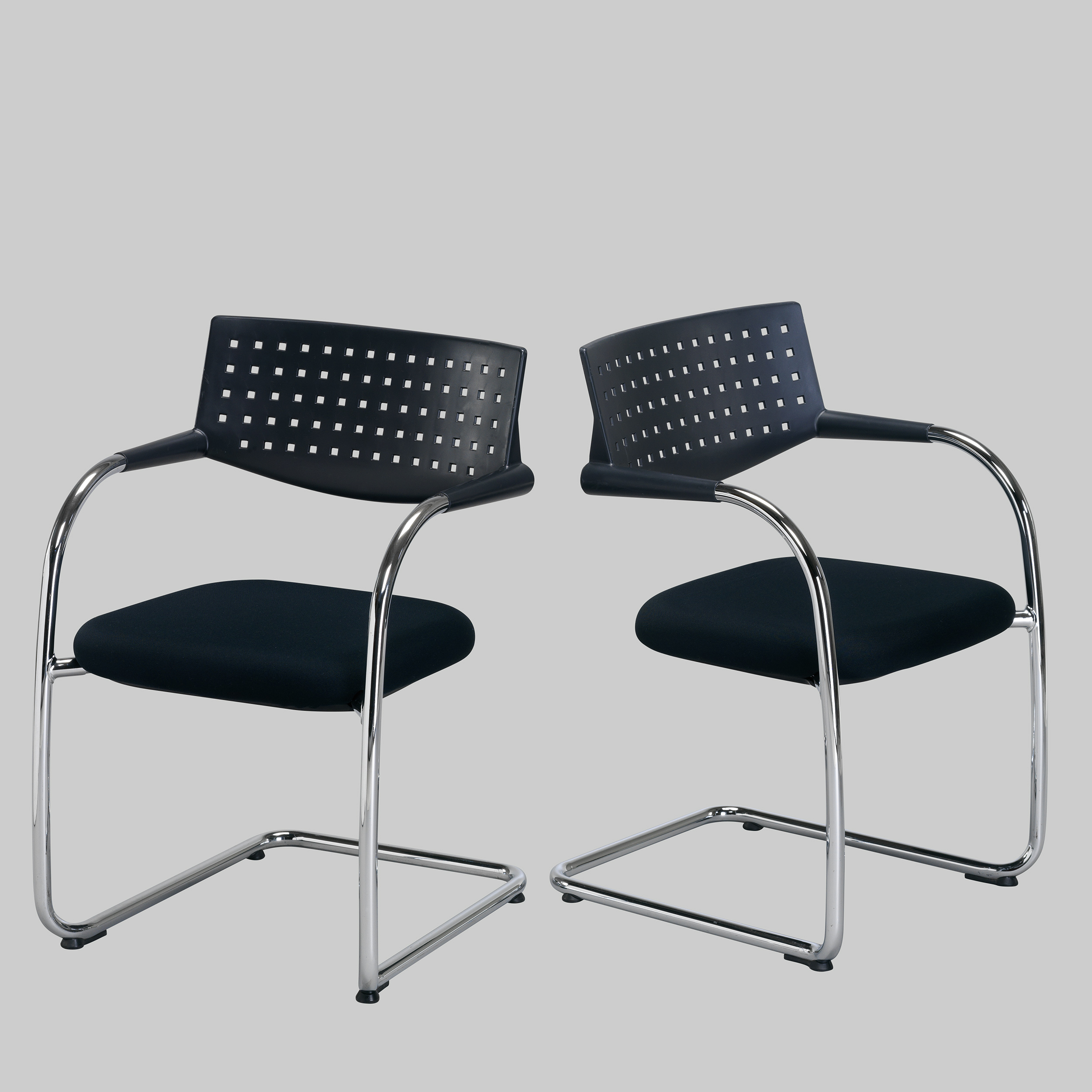 PANTON
This chair is an absolute design classic. The design is by the Danish Verner Panton. In 1967 the Panton Chair came on the market as the first plastic chair to be made in one piece. The organic shape is made of colored polypropylene making this an outdoor chair. You rent the Panton Chair from Adexpo in white (S362) , red (S363) and black (S364).
Curious about our other brands? Check out our overview!
Would you prefer to request a quotation right away? Click here, call us on +31(0)165 57 39 39 or send an email to info@adexpo.co.uk